In the midst of coldness during CNY in Hong Kong, KYUEMON ceramic coffee cup highlighted in the readership NO.1 gourmet magazine Eat & Travel Weekly, captured the attention of Hongkong readers. In the opening photo, hot water poured into the grey ceramic cup seemed passing through a ceramic net, dripping into crystal-like yellowish liquid. ' Its flavour is unexpectedly rich with extraordinarily delicate and smooth texture. ' as put by the writer. So, what is the secret?

' The point lies in the dark filter, which looks like 100% tight on its surface but in fact filled with uncountable invisible tiny pores that facilitate highly-efficient water filtering with water particles reengineered/re-ordered into unit-by-unit(H20) original state. ' (Eat & Travel, Jan 2012)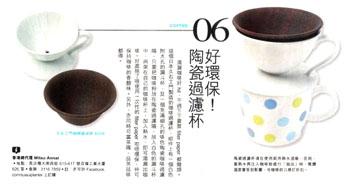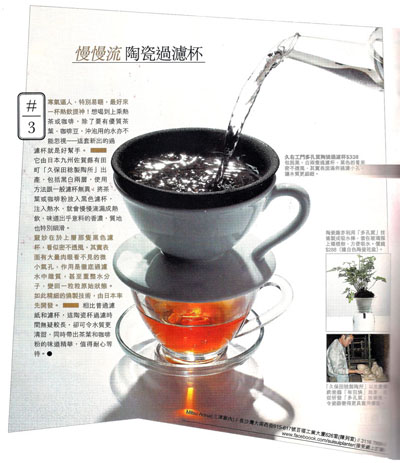 The magic of KYUEMON porous ceramic technology does not only give rise to a wonderful tea or coffee brewing moment but also offer an easy and impressive gardening experience to the beginner gardeners or busy people . In the Jan issue of Weekend Weekly in 2012, a popular leisure magazine in Hong Kong , the funnel-shaped free-watering planter SuiSui became the spotlight of the GO GREEN page.

' KYUEMON planter is characterized by its smart design of being compatible with any types of water container like pet bottles and takeaway cups. Its secret weapon is just a porous ceramic rod which can absorb water from the container and pass upward to the plant roots beyond the rule of gravity. Plant becomes automatically moisturized thus watering becomes unnecessary. Save time! Save effort! ' (New Weekly Jan 2012) Perfect for gardeners on the go or on vacation and its perfect mix of style and functionality also wins the coverage of home design magazines such as Interior Beaute and Modern Home .